ACCESS
Sant'Anna School of Advanced Studies – Institute for Management

Academia and sports gather in Pisa to discuss environmental assessments of sport events
Organised under the umbrella of the ACCESS project and hosted by Sant'Anna School of Advanced Studies this workshop had to objective to expose currently available tools for environmental assessment to sport organisations and provoke discussions on and comparisons of their purposefulness, features, functionalities and deployment in general.
Whether talking about qualitative or quantitative assessments, such activities – in form of audits, site visits, interviews, surveys, focus groups and similar, can provide sport organisations with a considerable amount of intelligence and insight in their current environmental performances. Once presented as heat maps, radar charts or other ways of data visualisation, they become easier for interpretation and for drawing certain conclusions. These conclusions could lead to comprehensive and tailor-made actions and decisions targeting different fields of operations and governance. Surely, other factors and affinities, as well as available skills and capacities need to be taken into consideration when wanting to add reasonability and rationality to these decisions. These are the factors which would determine whether a sport organisation should go for the "low hanging fruits" approach or the one that would set new benchmarks for other sport organisations.
This very event allowed the most recent European projects to showcase their tools in front of a versatile audience. The workshop did not only include the sport organisations participating in the ACCESS project – the GAA, FC Porto and the Football Associations of Wales and Denmark but also Francesco Ferrara of the Italian Swimming Federation, Anna Merlini of the Italian Canoeing Federation, Filippo Ceragioli representing the Parley for the Oceans and the 2021-2024 International Olympic Committee Young Leader, Nicolò Di Tullio, among other PhD students.
The four projects involved in the workshop, all supported by various European Union's programmes, were namely GOALS, revolving around governance-oriented actions levering on environment for sustainability and GAMES, looking at environmental audit assessments. Green Sports Hub, a project which is currently entering its last year with some interesting outputs and tools that are gaining attention from across the world of sports made an appearance too, with it's self-assessment tool applicable to a wide range of sports.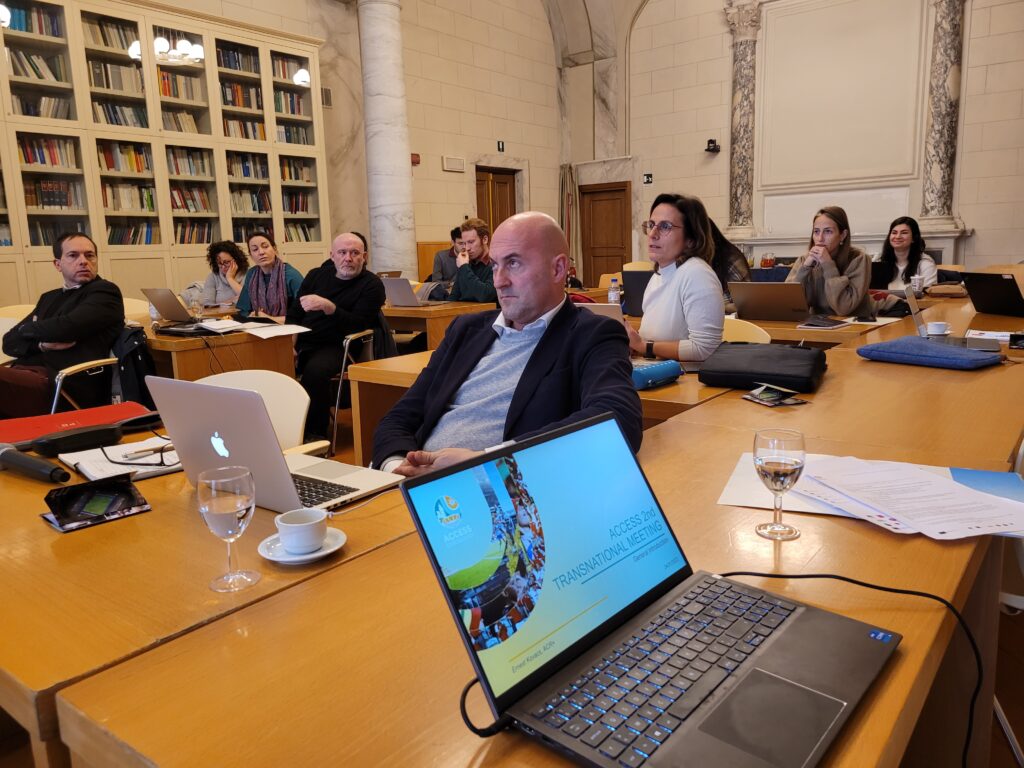 The workshop itself included several roundtables and group discussions around the different tools. What was common to each group ajd its participants was the expression of their gratitude to technical experts and academia for developing such tools. However, at the same time, they highlighted the fact that conducting an assessment requires a careful choice of a tool. Anna Merlini, of the Italian Kayak Federation stressed the fact that conducting an assessment requires a careful choice of a tool. The underlying reasons for this are numerous, but the ones that were underlined revolved around the capacities of different sport organisations – in terms of data availability, knowledge on processes and procedures, human resources and more. These would be the circumstances which would considered when choosing between non-invasive and scenario-based tools, rather than a data collection based tool. As it was echoed at the magnificent "Aula Magna Storica" room, tools based on data and figures are certainly useful and as important; nevertheless, a sport organisation first needs to reach a level of environmental management which would allow them to conduct such an assessment. Once they are there, they can aim as high as obtaining an ISO certification or similar.
Another highlighted remark was about the diversity of sports and the need of having tools which allow less known and less popular sports to be able to assess their environmental performance, too. Putting this in a real context, a tool developed for stadium or indoor arena sports might not be the most applicable ones to sports taking place in the great outdoors, such as cycling, sailing, golf, Nordic skiing or similar.
To conclude, this event and many other of a similar kind, which bring together various sport organisations, was proven to be very beneficial for the advancement of proper, sound and responsible environmental management in sports – an objective the ACCESS project wants to achieve, too.