ACCESS

ACCESS project to be featured at EU Green Week's partner event
The ACCESS project is very proud and happy to announce its participation at the upcoming EU Green Week as a contributor to a conference titled "Greening sports for achieving participative and contributory circular communities: skills and know-how for getting there".
This year's EU Green Week is aligning with the European Year of Skills and therefore revolves around topics of skills for sustainable, resilient and socially fair communities. Considering that the ACCESS project is indeed looking at improving sport organisations skills and capacities to improve their environmental performances in operations and governance though enhancing the cooperation with their local and regional authorities as well as building internal structures for this purpose, the Green Week's partner event will certainly be a good opportunity to showcase the project's approach to this this challenge.
The event will be organised within the framework of another Erasmus+ funded project – Green Sports Hub, which is using the Green Week as an opportunity to present its outputs and tools that were developed throughout its duration. It will be hosted by ACR+ and Zero Waste Scotland at Scotland House Europe in Brussels.
Specifically, the ACCESS project will present its framework for improving environmental management in sports, combining trainings, capacity building provided by the project's technical partners and Community of Practice as an approach to enhance cross-sectoral cooperation and the envisaged outcomes in the four pilot sport organisations.
To represent the ACCESS project, ACR+'s Ernest Kovacs said:"Projects and initiatives show that sports and the outreach they have – tens of thousands of people in each European city, are a largely untapped source of contribution to a more resilient and environmentally responsible society."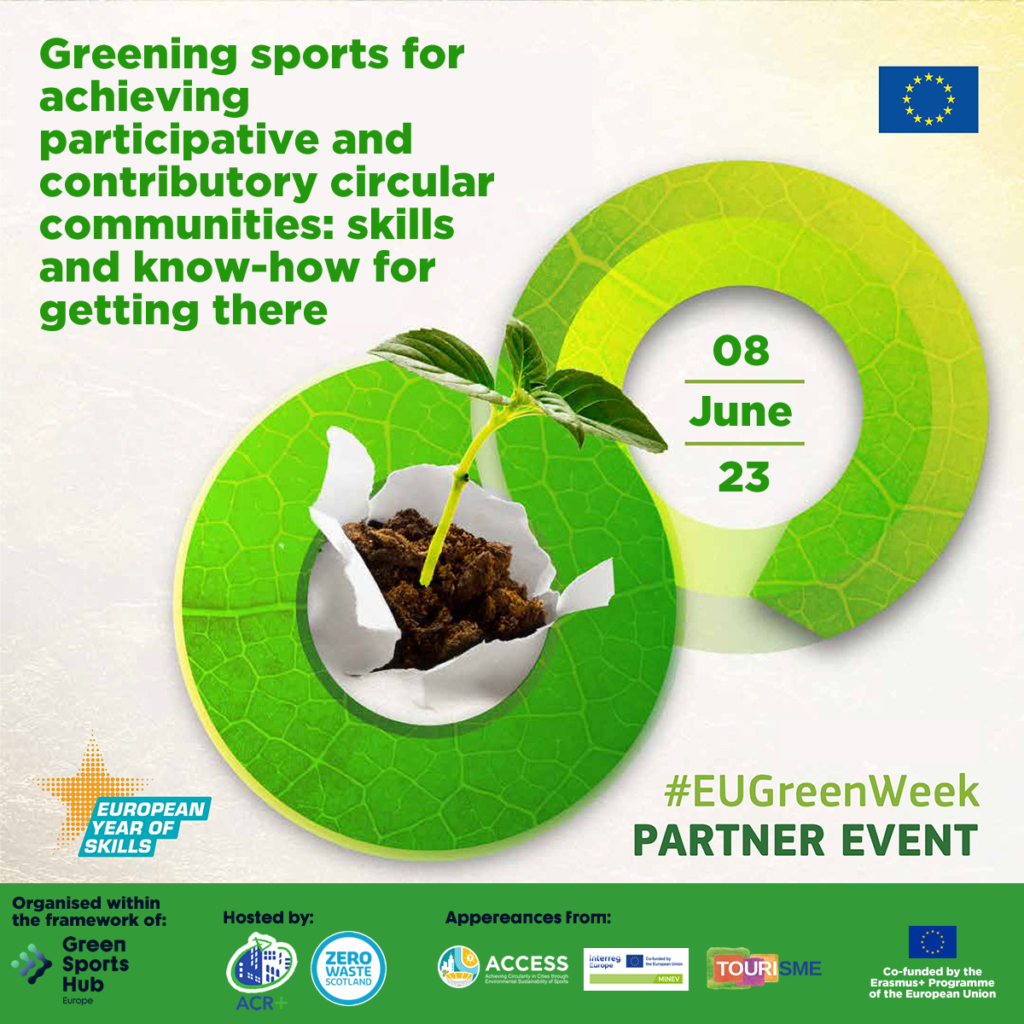 As the event's page says, sports can easily be considered as one of the most popular leisure activities for a great share of Europe's population – either through practicing them or enjoying them as a supporter, they have an intangible potential for provoking a positive mindset change in wider communities towards contribution to environmentally friendly practices and building resilience therein, in general. While cities and regions have the ultimate responsibility to steer our lifestyles and habits towards securing well-being for all of us through relevant policies and strategies, their execution, deployment, and attainment considerably depends on the way communities adopt them and contribute towards achieving them. What skills and tools are needed to turn things around and consider sports as a driver for major attitude change? How to make sports aware of this opportunity? Why should sport entities and local and regional authorities working together rather than be in a love and hate relationship? This is what this Green Week side event wants to give answers to.
The event will welcome and host a variety of relevant actors and stakeholders along the sport value chain, divided in different sessions – from key note speeches, presentations of latest achievements and solutions, interactive panel discussion to closing remarks which would show the way forward for enhanced cooperation and joint efforts in the field.